SacAnime Summer 2012 – Panel Coverage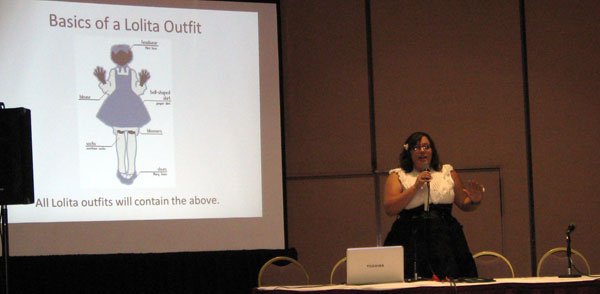 What is Lolita?
If you are interested in Lolita fashion, then this panel is for you! Join Evangelina Ray and learn exactly what Lolita fashion is, the basic components of a Lolita outfit and how to get started building your own Lolita wardrobe. Miss Ray has generously supplied some links to several excellent EGL sites so be sure to check them out! Thanks Evangelina!
On a side note, there have been some very unfortunate developments with Kintoki-Con in regards to welcoming Lolita fashion to the show. The Kintoki-Con staff feel that…
"…due to us turning this more into a family friendly event we are not going to be promoting any Lolita-themed events (due to what the term is referred to versus what it has become)."
Evangelina has set up an online signature page to fight this prejudice. Unfortunately, we don't have the direct link at this time but will put it up ASAP. In the meantime, contact Evangelina through the Sac EGL Facebook Page for more info about this situation as it develops!
What is Lolita? - Panel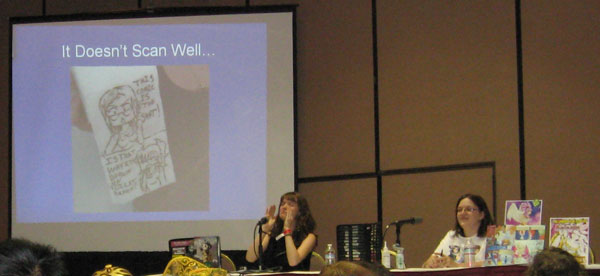 From Fan to Creator!
Have an awesome idea for a comic but don't know where to start? This panel is just for you! Melissa McCommon and Heather Jaeger fill you in on what you need to survive in the comics industry as a professional!
From Fan to Creator! - Panel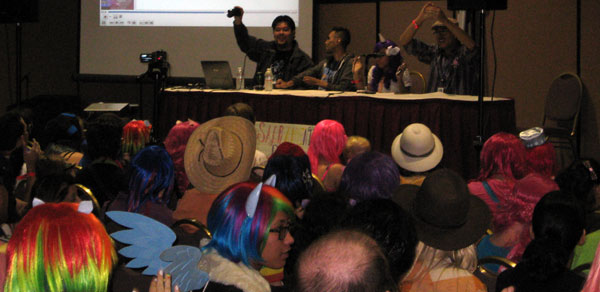 We Are Bronies!
Gather together with your fellow bronies in this oasis of friendship and tolerance! The bronie culture is an incredibly creative and welcoming community. This panel is all about the fans of "My Little Pony: Friendship Is Magic" and their amazing fan-created work. Hosted by the Sacramento Brony Meetup team, this panel was a bunch of fun! Check out what Carlos and friends are up to on sacbronymeetup.com! And don't forget to listen to our interview with Carlos (Leader of the Sac Brony Meetup Team).
We are Bronies! - Panel

Voice Actor Overload Q & A
It's always fun when these three great voice actors get together for a panel. Come join Roger Craig Smith, Travis Willingham and Laura Bailey for a look at past work and future projects. This panel was hilarious! Roger, Travis and Laura are a riot.
Voice Actor Overload Q & A - Panel
comments powered by

Disqus